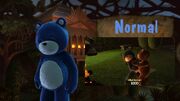 Normal Bear is the 5th target bear in Naughty Bear: Panic in Paradise.
Paradise Island
Edit
Normal Bear is Chief Recruiter of the Stab Chisslers, which is a Naughty hater clan. The Stab Chisslers have recruited a new member called Tickler, and he has been sent to kill Normal.
Naughty has been sent to kill Normal Bear, with no clothes, with a machete before Tickler does. Naughty was able to kill the Chief Recruiter Normal Bear within the Stab Chisslers base.
Ad blocker interference detected!
Wikia is a free-to-use site that makes money from advertising. We have a modified experience for viewers using ad blockers

Wikia is not accessible if you've made further modifications. Remove the custom ad blocker rule(s) and the page will load as expected.